Link up hassle-free without any overlapping of schedules.
A proficient web app with an easy-to-use interface.
Have a look
About
Linkuply
When scheduling a meeting, time overlap between the two parties often happens. To avoid this, we came up with Linkuply, a web app to solve this problem. Our app provides the host of the meeting to give the dates and times they are available for a meeting with the potential client.
The user can select from the given schedule as per their convenience. The app doesn't require any login or sharing of personal data for using it.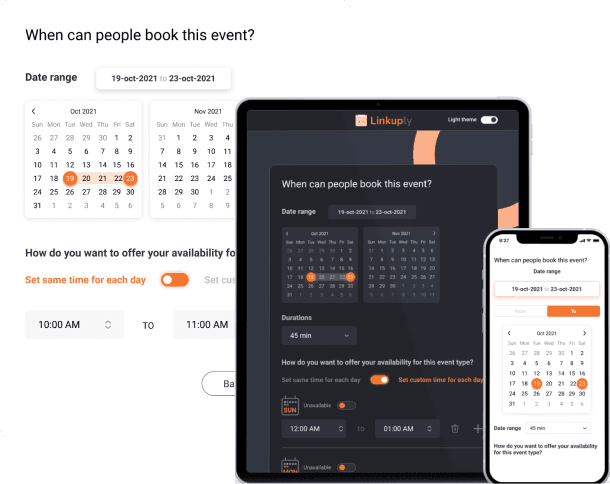 How
Linkuply

works for you?
01
Enter your email details
You only have to enter your and the attendee's email with the purpose of the meeting mentioned.
02
Book your appointment on the calendar and select the time.
You can select multiple dates and times for your meeting to give the other party an option to choose from.
03
Confirm your scheduled meeting and link
As soon as you confirm your schedule you get a sharable link for your client. When they open the link they will be shown the various schedules you have selected for the meeting.
Features
Easy to use
No signup
Flexibly set availability
Free
Try Linkuply, for free!
You can try scheduling your next meeting on Linkuply and have an error-free schedule line-up
Let's get started